Page
1
|
2
| 3 |
4
1930
Becomes member of the PEN Club (founded in London in 1922).
Co-founds the "Ring of Hanoverian Authors" with Christof Spengemann and Carl Credé.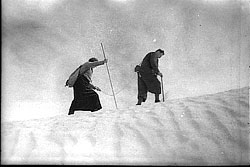 March/April 1930
Trip to Switzerland; represented in "neue werbegraphik" ("new advertising graphics") exhibition in the Gewerbemuseum, Basel; catalogue text about the "ring neuer werbegestalter"; three readings in Zurich and Basel.
April/May 1930
Included in the "1ère exposition internationale du groupe Cercle et Carré" in Paris.
21 December 1930
Reading (of, among other works, An Anna Blume and Schacko) at the matinée "Künstler in Front" in the Capitol-Hochhaus in Hanover; presumably his last public appearance as a recital artist in Germany.
1930-1936
Annual summer trips to Norway; stays primarily in Djupsvashytta Hotel by Lake Djupvand, in Moldefiord and on the island of Hjertøya. Earns his living by selling landscape paintings.
1931
Merz 21:
erstes Veilchenheft
published (the issues
Merz 22 Entwicklung
and
Merz 23 e. E.
were announced but did not appear).
Elected Honorary President of the Société Anonyme. Represented in the following shows organized by the Société Anonyme: "Special Exhibition Arranged in Honour of the Opening of the New Building of the New School" and "International Exhibition Illustrating the Most Recent Development in Abstract Art", New School for Social Research, New York (subsequently in the Albright Art Gallery, Buffalo).
Becomes member of the artists' association Abstraction-Création, Paris. Photographs of the
Merzbau
and other works reproduced in the journal of the same title 1932-1934.
16 March 1931
Death of his father Eduard Schwitters.
June/July 1931
Represented in a show by the "ring neue werbegestalter" in Essen and (as part of an international exhibition of advertising prints, photos, and photo-montage) at the Stedelijk Museum, Amsterdam. These are the last public presentations of work by the "ring neue werbegestalter".
Trip to the Netherlands, visits Lajos d'Ebneth in Kijkduin by Scheveningen; attends 9th congress of the PEN Club in The Hague.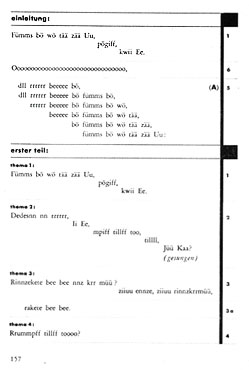 1932
Merz 24 Ursonate
published (typography by Jan Tschichold).
The artists' group "die abstrakten hannover", which was founded in 1927, begins to gradually disband.
March/April 1932
Represented in the jubilee centenary exhibition of the Hanover Kunstverein.
Seven-week cruise accompanied by Helma Schwitters (Guernsey, Brittany, Madeira, Southern Spain, Morocco, Italy).
5 May 1932
Recording of the scherzo from the
Ursonate
and the poem An
Anna Blume
for the broadcaster Süddeutscher Rundfunk Stuttgart.
1 July 1932
Becomes a member of the German Social Democratic Party.
Summer 1932
Leases a cottage on the island Hjertøya in the Molde Fjord and begins to convert it into a
Merz building
.
1933
Member of the Deutscher Werkbund (had probably joined earlier, but membership in 1933 is documented).
In the course of the following years, increasing withdrawal into "inner emigration" and concentration on the Merzbau (Merz building) in Hanover.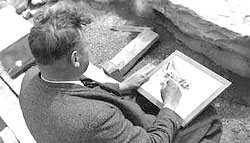 June/September 1933
Defamed in the exhibition "Novembergeist: Kunst im Dienste der Zersetzung" ("November Spirit: Art in the Service of Moral Corruption") in Stuttgart and Bielefeld, organized by the National Socialists (presumably only reproductions of Schwitters's works were shown).


July 1933
The story
Schacko
published under the pseudonym Peter Krüger in the periodical
Zirkel: Magazin für Wissenschaft, Kunst und Technik
(no. 1), edited by Hanne Bauer-Rasch.
January/February 1934
Travels to Oslo with Ernst Schwitters; solo show (landscapes) in Blomqvist art dealer's in Oslo.
28 March 1934
Travels to Berlin for the opening of the Futurist exhibition "Aeropittura", meets Filippo Tommaso Marinetti.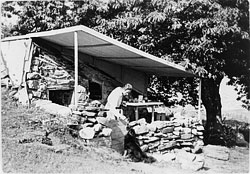 Summer 1934
First meets his later friends Hans and Suzanne Freudenthal from the Netherlands.
October/November 1934
Represented in the autumn show of Hanover artists at the Hanover Kunstverein. This is the last presentation of Schwitters's work in National Socialist Germany, apart from inclusion in defamatory exhibitions of "degenerate art".
December 1934/January 1935
Visits Hans and Suzanne Freudenthal in Amsterdam.
1935
Defamatory presentation of The Merzpicture and Ring Picture (both confiscated in 1935) as well as his poem
An Anna Blume
and the quotation "Everything an artist spits out is art" in the first "Degenerate Art" touring exhibition organized by the National Socialists (began 23 September 1933 in Dresden and ended in September 1936 in Frankfurt-on-Main.)
Alfred Barr jr. (director of the Museum of Modern Art, New York) pays a visit to Waldhausenstrasse, Hanover, but does not meet Schwitters in person. Barr views the
Merzbau
and purchases a collage for the Museum of Modern Art, New York.
January/February 1935
Represented in the exhibition "Tentoonstelling van modern schilderwerk, grafiek, reclame en fotografie" in De Nieuwe Kunstschool, Amsterdam. Travels to Rotterdam and Amsterdam; visits Hans and Suzanne Freudenthal.
September 1935
Stay in Copenhagen.
December 1935
Travels to Switzerland.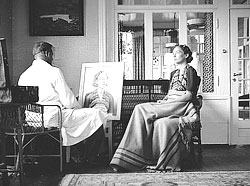 March 1936
Travels to Paris, visits Hans Arp and Sophie Taeuber-Arp; meets Piet Mondrian.
Trips to Switzerland and the Netherlands; visits Edith and Jan Tschichold in Basel; visits Hans and Suzanne Freudenthal in Amsterdam (end of March).
March/April 1936
Included in the exhibition "Cubism and Abstract Art" at the Museum of Modern Art, New York.
August 1936
The Gestapo in Hanover arrests his friends Christof and Luise Spengemann and their son Walter.
November/December 1936
Travels to the Netherlands; visits Piet Zwart and Hans and Suzanne Freudenthal.
Fruitless attempts to find parties in the USA interested in his
Merzbau
.
December 1936/January 1937
Included in the exhibition "Fantastic Art, Dada, Surrealism" in the Museum of Modern Art, New York.
Schwitters's 18-year-old son Ernst flees to Norway on 26 December. Kurt Schwitters follows on 2 January 1937 and in view of the political situation decides not to return to Germany. Lives in Lysaker near Oslo and, in the summer months, in Molde (officially registered as resident already on 10 November 1936). Helma Schwitters remains in Hanover and spends only a few months annually in Norway up to 1939. Important works are gradually moved from Hanover to Lysaker.
Kurt Schwitters begins work on a new
Merzbau
in Lysaker, the Haus am Bakken, which was destroyed in a fire in 1951. During exile in Norway, and later in Great Britain, he increasingly produces figurative drawings and paintings (primarily landscapes and portraits).
January/February 1937
Represented in the "Konstruktivisten" exhibition at the Kunsthalle in Basel.
July/August 1937
More works by Schwitters expropriated from German museums (in Berlin, Hanover, Mannheim, Breslau, Saarbrücken and Wiesbaden, among other places).
Second "Degenerate Art" exhibition begins, with itinerary taking in Munich, Berlin, Leipzig, Düsseldorf and Hamburg, and ending in Halle on 20 April 1941. Presentation of abstract works (for instance
The Merzpicture
, 1919,
Ring Picture
, 1920-21,
Merzdrawing
190, 1921, und
Mz 195 The One
, 1921) in the context of Dadaist works that are described as "utter insanity".
1938
Collaboration with the Norwegian composer and organist Thorolf Høyer-Finn leads to the play
Hvad er sannhet
? (German title: "Wahrheit" - "Truth").
Sells five collages to Peggy Guggenheim.
July 1938
Represented in "Exhibition of Twentieth Century German Art", New Burlington Galleries, London (organised in protest against the Nazi "Degenerate Art" exhibition).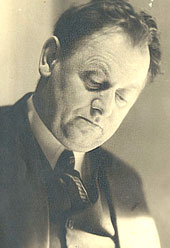 September/October 1938
Represented in the exhibition "International nutidskunst. Konstruktivisme, neoplasticisme, abstrakt kunst, surrealisme" in Oslo.
December 1938
Travels to Stockholm, Copenhagen, Göteborg.
1939
Poems and a drawing published in the periodical
Plastique
(no. 4), edited in Paris by Sophie Taeuber-Arp.
2 July 1939
Family celebration in Oslo (80th birthday of his mother, Henriette Schwitters, and engagement of Ernst Schwitters to Esther Guldahl); last meeting with Helma Schwitters.
Seite
1
|
2
| 3 |
4