Page
1
|
2
|
3
| 4
9 April 1940
German troops invade Norway. Together with son Ernst and his wife Esther, flight over a period of several weeks to Tromsø in north-west Norway via Molde and the Lofoten islands. In Åndalsnes and on the Lofoten, the refugees are briefly detained by the Norwegian and British military administrations.
8-18 June 1940
Crosses to Scotland on the icebreaker Fridtjof Nansen.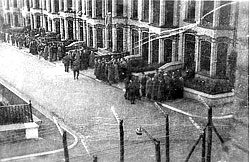 1940-41
Internment in various camps in Scotland and England: in Midlothian (south of Edinburgh), in Edinburgh, in York, in Bury near Manchester, and from 17 July onward in Hutchinson Camp in Douglas on the Isle of Man (until 21 November 1941).
Sets up a studio in Hutchinson Camp. Produces numerous portraits of fellow internees and holds regular recitals (which include
silence
, his first poem in English) in the artists' café at the camp. Publishes stories (including
The Story of the Flat and Round Painter
) in the internees' journal
The Camp
.
Becomes member of the League of Free German Artists in Great Britain, founded in 1938 by Fred Uhlman.
5 October 1940
Schwitters celebrates his silver wedding anniversary alone in the internment camp.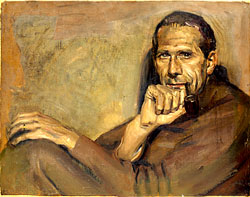 November 1940
Contributes figurative paintings to an exhibition in the internment camp.
5 January 1941
Fire breaks out in his studio.
December 1941
Moves to London, 3 St. Stephen's Crescent, on being released from internment. First meeting with Edith Thomas (nicknamed "Wantee"), who later becomes his companion.
February 1942
Represented in the "AIA 1942 Members' Exhibition" of the Artists' International Association in London.
May 1942
Meets Ben Nicholson and his wife Barbara Hepworth.
August 1942
Moves to 39 Westmoreland Road in the London suburb of Barnes, together with Ernst Schwitters and his Norwegian colleague Gert Strindberg.
September 1942
Holidays in the Lake District with Edith Thomas.
1943-1945
Increased production of small abstract (plaster) sculptures.
8-9 October 1943
The house at Waldhausenstrasse in Hanover, the site of the Merzbau, is destroyed by an incendiary bomb.
January/February 1944
Included in the exhibition "The World of Imagination" at Jack Bilbo's Modern Art Gallery in London.
March/April 1944
Represented in an exhibition of Concrete Art at the Kunsthalle, Basel.
April 1944
A stroke suffered during a severe bout of influenza leads to temporary paralysis on one side of his body.
22-26 August 1944
Participates in conference organized by the PEN Club, where he meets up with Stefan and Franziska Themerson and Lucia Moholy-Nagy.
29 October 1944
Helma Schwitters dies of cancer. Kurt Schwitters first learns of her death later that year in December.
December 1944
Solo show at the Modern Art Gallery in London; introduction and catalogue text written by Herbert Read.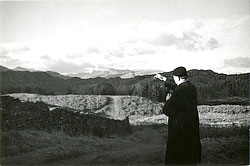 26 June 1945
Kurt Schwitters moves with Edith Thomas to 2 Gale Crescent, Ambleside, in the Lake District.
Meets the teacher Harry Bickerstaff and the artist Hilde Goldschmidt.
Earns his living by painting portraits, landscapes and still-lifes. Financial assistance afforded by his friend Walter Dux, a Hanover industrialist and fellow emigré living in London.
16 November 1945
Travels to London to attend the wedding of Ernst Schwitters and his second wife Lola "Eve" Mehrgut from Hamburg.
28 December 1945
Death of his mother Henriette Schwitters.
1945-1947
Trips to London as well as Manchester, Liverpool, Southport, Blackpool, Preston and Penrith undertaken for portrait commissions and in order to buy paints.
1946
13 poems published in Carola Giedion-Welcker's
Anthologie der Abseitigen - Poètes à l'Écart
, Benteli, Bern.
February/March 1946
Physical collapse due to vascular congestion, which also causes him to lose his sight for a period of four days. Moves house to a lower location in Ambleside (4 Millans Park) in consequence of this illness.
Summer 1946-Spring 1947
Works on the periodical
PIN
planned with Raoul Hausmann.
September/October 1946
Included as a non-member in the annual show of the Lake Artists' Society in Grasmere; represented again (as a member) in 1947; after his death, works are exhibited likewise (in 1948).
October-December 1946
Confined to bed for several weeks due to a break of the neck of the femur (on 8 October); increasing financial difficulties.
Two Merz evenings staged at the London Gallery (5 and 7 March). Futile attempt to persuade the BBC to record his
Ursonat
e.
February/March 1947
Travels to London with Edith Thomas; suffers attack of asthma; spends two weeks recuperating in Broadstairs.
9 June 1947
His grandson Bengt Schwitters is born in Bærum, Norway.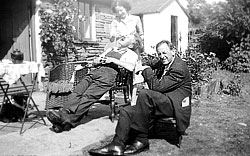 20 June 1947
60th birthday, is awarded a fellowship of US $ 1,000 by the Museum of Modern Art, New York, originally intended for the re-building or continuation of one of the Merz buildings in Hanover or Lysaker; uses the award for work on a new
Merzbau
, the
Merz Barn
, on Cylinders Farm, which belongs to Harry Pierce near Elterwater in the Lake District.
14 July 1947
Suffers a haemorrhage; work on the
Merz Barn
is interrupted.
5 August 1947
Article Kurt Schwitters.
Konstruktive Metamorphose des Chaos
by Carola Giedion-Welcker published in the Zurich newspaper
Die Weltwoche
on the occasion of Kurt Schwitters's 60th birthday.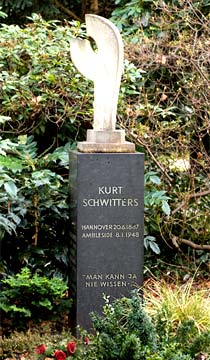 Mid December 1947
Admitted to Kendal Hospital.
7 January 1948
Granted British citizenship.
8 January 1948
Kurt Schwitters' dies in presence of Edith Thomas and Ernst Schwitters in Kendal Hospital. Causes of death are acute pulmonary oedema and myocarditis.
10 January 1948
Buried in St. Mary's cemetery in Ambleside.
4 September 1970
Remains transported to the Engesohde cemetery in Hanover; the grave in Ambleside is left in place, together with the gravestone erected by Edith Thomas in 1966.
Page
1
|
2
|
3
| 4