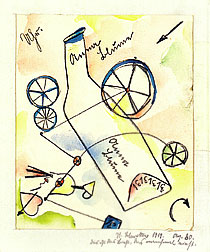 The collection contains over 1,000 works by the Merz artist, including 50 significant abstract reliefs and assemblages, 60 abstract and 300 representational oil paintings, 20 of the few remaining sculptures, 160 collages, and 400 drawings and watercolours from all periods of artistic activity.
Early works and abstract Merz works from the "classical period" are represented, along with abstract and representational works from the years spent in Norway and England.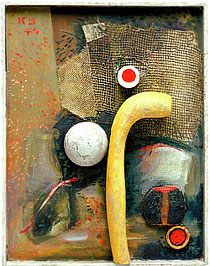 A series of early abstract drawings, the collection of important later Merz pictures and collages, and drawings dating from the 1930s and 1940s are particularly notable. All works by Kurt Schwitters owned by the foundation are documented in the
Catalogue raisonné
(in Volume 1 listed under ownership as Nachlass KS [Estate KS]) and are located in the Sprengel Museum Hannover.
To the online collection of the Sprengel Museum Hannover
.
Publications
© Kurt and Ernst Schwitters Foundation